To hire or not to hire
The decision to bring on staff is one of the most important decisions a small business can make. For an entrepreneur, it's also an exciting one as it means your business suddenly has huge potential to scale up and grow.
However, it's a decision that shouldn't be entered into lightly. Hiring is an investment and if you do so too early it can be costly and time-consuming for your business. And if you hire the wrong person it can impact company culture and morale.
So take a look in the mirror and ask, is it the right time to hire?
Inc.com has drawn up a useful checklist of sorts to help guide businesses facing the age-old question "to hire, or not to hire".
If you are in the position of turning down work because you're too overwhelmed or losing solid business opportunities, these are two glaring red flags it's time to expand. Similarly, if you are getting negative reviews, can write a solid job description, and are in DIRE need of a holiday – it's time to bring on a team member.
If you have answered yes to the majority of these points you have one more important question to weigh up; do you outsource, or do you bring on someone full-time?
Hiring can be very time-consuming
Did you know, hiring time has nearly doubled since 2010? Majer Recruitment states it takes on average 68 days to fill a vacant position.
While you may not be going down the recruitment avenue there's no doubt hiring is a time-consuming process, and so it should be. You want to take your time to make sure whomever you're onboarding is right.
Once you have found someone, you then have FairWork and WorkCover to contend with, not to mention an employment contract to sort out.
While outsourcing arrangements aren't as legally binding as hiring a full-time staffer it does negate the need for all of that.
The other big advantage of outsourcing is that it saves money in the long-run. As I've harped on about at length, cost-control is extremely important in the early days of a business.
So when it comes to hiring my stance is, if you're being bogged down by time-consuming, simple tasks such as; data entry, administrative tasks, IT operations, and the like, you may want to consider outsourcing.
If you're finding you need help in an area that requires more skill like writing, marketing, lead generation, you may want to seriously consider hiring either a freelancer or a full-time staffer, depending on how long you will be doing those activities.
Adding more staff ultimately means your business is growing. Congratulations! That is what most business owners want.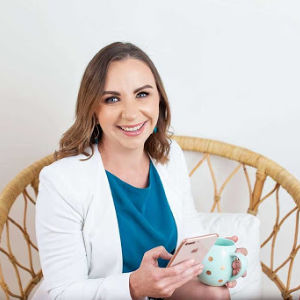 Emma Bowdler
Emma is an award-winning international entrepreneur, cheerleader for women and an accountant bursting with personality. She loves helping women kick some serious goals in business.
Emma is a Fellow of the National Tax Agents Association (NTAA), a Registered Tax Agent, and a Justice of the Peace in Qld with a Bachelor of Commerce in Accounting,